Inspired by SJ Fowlers 'Camarade' project which pairs poets together to create new work, I've stolen the notion and begun to collaborate with friends and writers or interest. You can read about the project and see the poems here.
—————
Commiserate is a monthly experiment in poetic collaboration.
November: William Letford – The Beat is Your Foot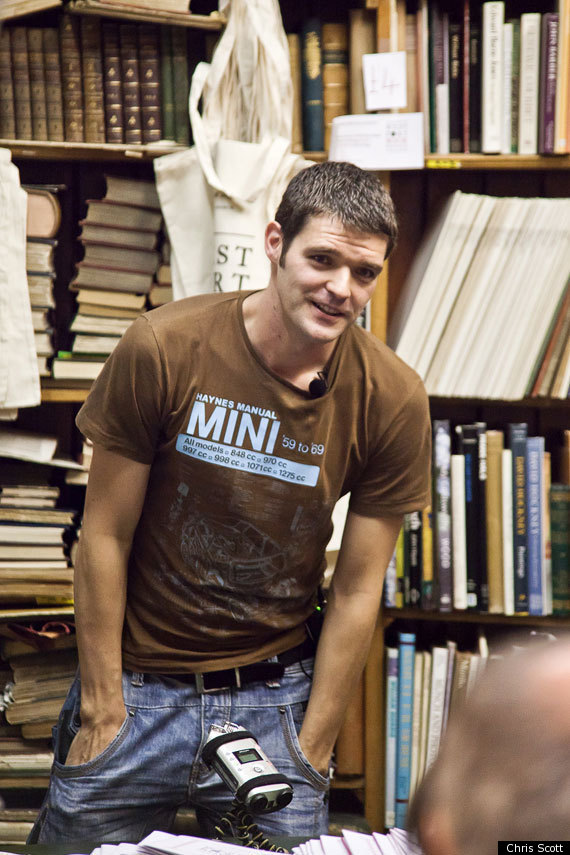 Says Ryan: I was very glad when SJ Fowler asked if I'd collaborate with my old friend William Letford for his epic CamaradeFest at the Rich Mix in London. The poem started with a text message Letford got during Reel Festivals' UK tour and evolved with the help of some brilliant of curve balls. Comma cow cow yiki!
The Beat is Your Foot
I am reading your book
it's pretty dark
where I am right now
sitting with another
life on fire
another job well done
Then
Yesterday, I lay down
on the tarmac
of a Tesco car park
and bench pressed
a shopping trolley
The kids knew
Some of the elderly did too
I'm happy for the rest
to believe I was drunk
or crazy  coma cow cow yiki
Now
people are going home
green purple salmon
our lantern, the soft moon
paved over rivers
something is going on
something is scratching
There are gaps of grief
coma cow cow yiki yiki ay
and art to shinplaster over
these cracks are contagious
coma cow cow yiki
and all the wolves
howl to get in
and weren't we
roaring lions
No
You were the wolf
I was the lion
I still am, coma cow cow yiki
mice whisper and see
I was getting
your dark book yesterday
i was sober enough
two stories high
everything made sense
the trolly, the size
of my house, width
of my mothers arms
Now
I'm using my hands
tracing emotions in the air
sadness is an arc
you must not push – slide
happiness is a single point
and my heart beats
Yes
chiki down chiki dee down
down down gi doom bong    bong
gi doom bong gi dibby dibby
coma cow cow yiki yiki ay
chiki down chiki dee down
down down gi doom bong    bong
gi doom bong gi dibby dibby
It's like my hands
are where magic is
and the beat is your foot
in my spoiled, toothless mouth.
Says William: Ryan was in Australia and I was in the North East of Scotland. I'm glad technology has moved forward otherwise our collaboration would've involved quills and month long journeys over land and sea and the death of some postmen, and the death of some sailors, and us growing older with painful dental problems. As it was i threw words in his direction which instantly found him and whenever they came back they were better than before.
We duet-ted the poem in London and I loved hearing it out loud. Smiled all the way through it. Even though we have the internet I suspect we're growing older anyway. My teeth feel okay though.
William Letford has received a New Writer's Award from the Scottish Book Trust and an Edwin Morgan Travel Bursary from the Arts Trust of Scotland. His first collection, Bevel, was published by Carcanet Press in 2012. He has received rave reviews for his work which combines experimental structure with cadences and accents of ordinary speech to produce "moments of transcendental insight" (The Guardian).
Says Emily: "For a long time, I have been, first visited, and then stalked, by a creature and poetic subject known to me as LIZARD. Lizard was born on a typewriter overlooking Loch Long and subsequently accompanied me to Beirut with Ryan Van Winkle where he had his first public outing as a suite of poems for a longer book I still have not finished. Ryan is therefore, an old friend of his. When Ryan and I discussed co-writing a poem or a series of poems, I suggested the title "ASK A LIZARD". I had been watching a lot of "Ask a Monk" on You Tube, where a bald man in orange robes tries to answer your most existential questions. I felt at times that Lizard would have more interesting answers. And so began our project "ASK A LIZARD" which Ryan and I sent back and forth over the course of several months. If you have any other questions for LIZARD, please send them."
Ask a Lizard
What is Sleep?
First, there is no cure.
Second, sleep is opposite of everything else
you think you are.
It is the black pulsing shadow on the rock
on the bark, on the sand.
It is the name for the stretched out shaded space that grows
to infinite proportions
blown by breeze, shape-shifted by sun
where Goannas eat man.
And it is the place you would step if you were able
to be nowhere else but there
in the black sketch of exile
(can you even remember it?)
that is the preparation for the long sleep
with no stories inside it.
Lizards don't tell their tales at night.
Every day they press another claw into the sand
which tomorrow will not be there.
Is it possible to be alone in a crowd?
If you can lie down
in a city rush say, at nine
in the morning
on a Monday, mid-September,
eighteen days from Washington
and curl up into a small ball
on the warming stone
of the footpath
imitating a lizard
or a penguin egg
take your pick
keeping your eyes shut tight
or just one eye in Asynchronous
Eye Closure
and a small handwritten sign
that reads
I am not dead, keep walking,
soon, the sound of work shoes
gingerly tap over and around you
(a meaningless stone in a river
of babbling soles)
and the slow slide
of passing traffic passing by
will massage you into a sort
of alone and wakeful rest
known to all lizards
of every tree and continent
as Qw – Quiet Wakefulness.
How Much Does the Earth Weigh?
Go easy and lift
from the knees
when you multiply
what you know
with what you don't
or count the seconds
of a day, every one
until it is done
and see if you don't float
in black nets of stars
What pulls harder than the moon?
Whatever draws or presses another is as much drawn or pressed by that other.
If a lizard draws a thread bobbin tied from its foot to a shrub, the lizard will equally be drawn back
towards the shrub, for the distended thread, by the same endeavor to relax or unbend itself, will
draw the lizard as much towards the shrub as it does the shrub towards the lizard and will obstruct
the progress of one as much as it advances the other.
(from Lizard's Third Law of Inertia)
Do you Ever Think of Your Mother?
Look sideways at the sun or lick a rock
when the canopy ruffles like fur
What is the Doctrine of Chances?
(The Doctrine of Chances: or, a method for calculating the probabilities for events in play)
Taste the air
with your wet
claw, let it tell you
which way it is blowing.
Does it hold rain?
Does it hold coming sun
or slacking moon? Or a total eclipse
of want, a total westward of
want? Does it hold
your supper or just stone dust
or the pale pollen of children
gusted up as far off as Adelaide?
Does it cradle night? Or does nigh
cradle you; rock you awake? You have to ask
yourself why you are asking. Can you
taste that light that comes out
when the cold shutter of sky closes,
when the yellow goes?
You know what happens now.
The whole world starts singing.
See that tree over there
with the cicadas in it? Their long wings
are lattices, both crispy and translucently sweet.
Your path from rock to bark
is an Isosceles or a Scalene
but if that hawk's overhead
you gotta gauge the chances
that he'll take a short line
and take his chance on you. Is it an accident
if his black beak catches? How many collisions
and near-misses, how much beaten wind
have you heard in your short warm life?
Mind this doctrine
when you dare that dash to scale that trunk
or it will shorter still.
What did your face look like before you were born?
You come to understand
wherever you go
you'll see your own face
in the mirror
not like stone
more like steel
each day, a little more rust
I asked Jane if she'd stay up late with me and write a poem. In my mind, we'd only send work to each other after midnight, perhaps a little tipsy. Of course, we broke the rules and, of course, it didn't matter. The point was to connect again since Jane now lives in Berlin and I remain (mostly) in Edinburgh. It is strange how people you once saw every day turn into friends you see once a year. And it is a constant surprise to me (because I'm an idiot) – how people grow and talent evolves. Working in this way with Jane reminded me how far we've both come since meeting each other many years ago while working at The Forest. After years of sweating in kitchens and drunken reading tours and countless stupid photographs – it was a pleasure to work with Jane Flett, writer.
Night Vision
I want to be left alone
with you to wind
the garters of our once-told tales
and turn the sky like spades.
I am dead and dry inside
and you are moist as midnight
grass. Some star
always in ascension, some mars
boy always going down, it is five
o'clock somewhere so pour
me a fresh glass of glitter and ask
the bears to leave us be, to stop
clearing those soft furred throats.
To choke. It is dark / they've seen our fire
all the times I am not here
—a bag hangs high. So, okay
we'll leave the bears. Okay, I'll go in.
I'll tidy my house. Post my letter.
Stand in the kitchen squinting
at the edifice of glass wondering
whether you plot to return or if
the dark is now your bedroom's
keyhole / should I grasp my
night vision? Is inside
your room the soft centre of
acorn shells, fit for
my finger? I have forgotten
so many sunsets
so many breakfasts, so many
broken fasts at midnight, so many
rules, all the crosswords I've ever
tried to own. So many letters
saying yes
the ocean is deep, of course
you want to be outside
on a sunny day
you can find anything you need
in thrushes or rusted bins
but to get astride your sunny
day / I have to trek
six continents from here,
forsake the Pleiades and
combat the tin shards
of the night. The trail
to your door is measured in
fathoms. I enter by sinking
slow, into pressure and black.
Jane says:
For me, this poem started off as a long distance mash note to a friend: Hey. I miss you. Let's sit up all night talking again about everything. But then it went all strange and unexpected. This is what I like most about writing when a poem is going well—the moments when ideas appear on the page that don't feel like mine at all but still feel like they're they only thing that could possibly come next. What? Where did all those bears come from? 
Of course, in collaboration this feeling is much, much greater. I was pushing the poem one way, Ryan was pulling it another, and I think somewhere in the gaps between our intentions, good things appeared. 
Bio:
Jane Flett is a philosopher, cellist, and seamstress of most fetching stories. Her poetry features in Salt's Best British Poetry 2012 and is available as a chapbook, Quick, to the Hothouse, from dancing girl press. Her fiction—which Tom Robbins described as "among the most exciting things I've read since social networking crippled the Language Wheel"—has been commissioned for BBC Radio, awarded the SBT New Writer Award, and performed at the Edinburgh International Book Festival.
August: Calum Rodger
I first saw Calum Rodger giving a fascinating talk on technology and poetry at the always intriguing Syndicate reading series in Edinburgh. I really liked what he was doing with experimentation and enjoyed how he used technology to make startling, surreal, beautiful work. So, I sent him some new poems and asked if he'd play around with them. Below you'll find my originals followed by Calum's explanation of his process and then the final pieces.
Originally, I intended to metaphorically burn the originals and leave Calum's work to stand as our collaboration. He thought you, hypothetical reader, would enjoy seeing what he started with. Which makes hypothetically true. However I must say that I consider the work he made the finished poems surpassing the originals in resonance and mystery.
Part I – Ryan's Original Text
The Street Lights Flick On
We know the rain must come
but it holds in the sky
we aren't children
So we don't out stay the night
playing in the gloam
we stay in doors
Of screens, the air electric
we kick the ball, we talk
of her or luck
It looses its magic sometimes
it is hard to pay full attention
to what you are doing below you
Escalator of a Metro
pushing up those cold insisting stairs now
instead of hanging back
a net of Clementines as in Madrid or Prague
New York or worse
Paris where my hands were on your hot
neck and we felt alone as blood rising
every fold of metal
like a sunset, (the long flight ahead)
before you saw them for what they were /
petals cast into the canyon / and nudged
Calum says:
After Ryan sent me the poems, I fed them into the text generator/processor JanusNode and randomised the word-order and line-breaks using the 'Dadafy' function. The results, heavily edited, make up the last poem below, THIS HOT STREET.
THE STREET LIGHTS FLICK OFF is a write-through of Ryan's poem The Street Lights Flick On, while the four cities mentioned in Escalator of a Metro become triggers for brief lyrics in the Poundian style suggested by that poem's title in FOUR APPARITIONAL ESCALATORS.
The second line of each lyric comes from Ryan's poem; the first comes from that city's Wikipedia page, chosen according to search terms selected arbitrarily from The Street Lights Flick On.
I really like working with a source in this way, and not going in with any 'goal' as such – that's up to the words to suggest. It removes it from self-expression a bit, which is very liberating, so the poems feel more abstract and take on more of a reality of their own, but then I still wind up feeling a connection with them – not reference as such, but resonance. I'm particularly pleased with these results – Ryan's poems proved fertile source material indeed.
THE STREET LIGHTS FLICK OFF
The rain we know comes mustily
it holds the sky.
We're not children
so stay the night.
We can be the flat plain gloaming
of wine-stained doors.
No air can trick its way in here,
forget the girl who kicks the coloured panel.
Talk is luck and not where love is.
Magic. When I lose that word
to the tone of your attention, it is hard.
Everything we're doing is below us.
FOUR APPARITIONAL ESCALATORS
Madrid
street-lighting, cemeteries;
a net of hanging clementines
Prague
even in summer the nights were cold
up those insistent stairs
New York
the conflict and the center of attention;
petals, cast into the canyon
Paris
all the trains are meeting in the city
every fold of metal / like a sunset
THAT HOT STREET
attention rising
you're magic!
(petals talk back)
sometimes
the sky is like Paris
and sometimes
a clementine sun
echoes an electric
insistence about
these streets
and we, screens
of gloam metal
instead of being
cold hang
out!
●
we were children
and could not pay
the lights flickered
on &
off
or…
I knew you in
the long air
the long kick
just what was your
lucky rain neck
doing in Paris?
and when I found you again
you were a full-blood sunset
in Prague
Calum Rodger is a poet and PhD student at the University of Glasgow working on the poetics of Ian Hamilton Finlay. His creative practice ranges from performance poetry and stand-up comedy, running live poetry night THE VERSE HEARSE in Glasgow with fellow poet Stewart Sanderson, to random lyrics and weird computer-generated and experimental stuff, which he blogs at ALL REAL CULTURE IS FREE. A chapbook, provisionally titled 'Know yr Stuff: Poems on Hedonism', is forthcoming from Tapsalteerie.
This Month: Alec Newman
Alec Newman is the editor at Knives Forks and Spoons Press, and an occasional poet.
Alec says: The original concept for this piece was to juxtapose the conditions of Manchester's working classes in Little Ireland, which stood by the Corner House in the 1840s, with the conditions of the working classes in Chongqing China today. My section would be assembled as found text from contemporary sources, whilst Ryan would compose poems in response to his research.
Of Manchester Of Chongqing
Who wouldn't want to build a new world
who wouldn't change a childhood
or take back a bloody word
spit at a mother? If you build it
maybe the ghosts will come
dressed in white and swinging
for forgiveness.
*
recall the new town || off oxford road ¶ 1801 – 1851 ¶ life expectancy calculated at 25.3 years ¶ in contracted, crooked courts and passages || the air choked with factory smoke and shoddy dust || 4,000 human beings || have reached the lowest stage of humanity ¶ in streets sunk in pools of shit || a weaver || in a dark, wet cellar, in measureless filth and stench || had to bale out the water from his dwelling every morning
*
An empty beach will not be silent. Diggers
will not rest, not in the open air, not when you must
go so far down to rise. Liveable, safe, the future
goes both ways. I don't want to talk about food,
what we eat, what mother swallows, what father
dug the holes for. So many buildings marked
for demolition, buried for a better life, mother
crane, father concrete, not even on a map. Puddles
fill the dark and faces bloom orange over a brazier
and the bang bang army shoulders
their quads for 50 kilos of rice, 50 kilos of leaves,
50 kilos of lime, 50 kilos of mint, life
a little better here and sometimes things are heavier,
sometimes we earn less.
*
talk about food || what they eat ¶ adulterated, poisoned provisions ¶ weaving cotton 69 hours a week for 11 shillings ¶ sometimes they earn less ¶ the villainy || of mixing gypsum, alum or chalk with flour ¶ tainted meat || taken from diseased cattle ¶ a pig found dead and decayed || 4d for pork-chops at the butchers
*
Megacity, weren't we capitol? Megacity means princes and the heavy smiles of those who lay under princes. Megacity, 18 is still quite a lot. Megacity, give us this day our daily cheap parts. Megacity means bridges of glass, walls of glass, whole faces of glass. Megacity, means never having to take the stairs. Megacity, when will you send your eggs to India. Megacity, means Moet & Chandon. Megacity, it is 5 O'clock somewhere. Megacity, rev your engines red, no speed limit, no cop no stop, no glitter till we're at sea. Megacity means never having to say 'I'm sorry.' Megacity, Megacity, doo wah diddy.
*
it should be noted BLOOD that many of manchester's victorian buildings exploit the semiotics of neoclassical architecture to reinforce the concept of divine-order BLOOD and therefore legitimise the british class system YOUR GRAND HOUSES WERE BUILT WITH THE BLOOD OF YOUR WORKERS the stout doric columns represent the working classes and occupy the ground floor where they support the middle and upper-classes THE MORTER WAS MIXED WITH SWEAT AND TEARS the ionic columns THE WIND HOWLS THROUGH YOUR ESTATE LIKE THE CRY OF A FACTORY CHILD which represent the middle-classes adorn the second floor YOUR WALLS OOZE BLOOD whilst the exquisite corinthian columns representing the aristocracy articulate the third floor
*
No contradiction, no story
no destruction, no balloon
no power station, no smoke
no smoke, no heat
no fire, no hot water
call the rivers coincidence
call blight, landmark
call it making work
call your bed obsolete, your house obsolete
fence a patch of grass big enough for a gnome
fence a corner, leave it a few years /come back /
and call it / stranger / call it miracle / call
your favourite restaurant deja vu / would you
press pause or raise high the roof beams
call graffitti whatever you want / one day /
it will be framed / all one hundred flowers red
or yellow / will be vased / sipping tea we can't
talk about anything else / whenever we ask
the answer is always 'someplace else'
where skyscrapers spurt from plains
like creeping plants / I can place
different things in different boxes
— a rubber chicken, a banana —
but there is little I can change
I name my son / I take my photo
I hang what I can on the line
and wait for the concrete to dry
*
Ryan says: when Alec suggested this theme, I was daunted because I never start a poem that way and Chongqing, China was way out of my comfort zone. I was spurred on by Alec's responses and by the juxtaposition itself. A solid idea which I hope I didn't fuck up too much. x

An Elementary Sequence in Four Parts
I.
BLACK WATER BLUES
The jar returns to the well till it breaks –
i heard her saying that soft as water
without knowing how hard
water could be
Crickets cry their song again
you know the song it goes on
and on remember me when all is gone
The water near my house is often yellow
the water of my father's house is grey
my love's water is red she calls it blood
She says It is easy to make a list
of what was lost
or who was abandoned;
chocolate melting in the sun,
stones baking in the heat,
water black below light.
and lights are dim as comes the night
So, you broke a jar, so what, he says
you gonna buy the blouse
will I write all over it
the black waters blues
You gonna invent the summer
and break the days which ran away
and for good over the sweetlife hills
It's easy to point the finger
it's easy to make a list
of all that was lost or who's to blame, i heard
her say, as if anything is different when you fall
II.
WATER WITH WIND
It gets complicated sometimes
the air is a desert
with no sound
It gets easy sometimes
the water is warm
do we fly or should we dive in
to the yellow forest of thoughts
growing on your weary little hands
birds of those woods
know it is time to sleep
despite pigeons racing
tiny worries
on their legs,
elsewhere
the sky; a whole net of stars
as if romance was something
we had never done before
III.
WATER WITH WIND, LATER FIRE
The wind slams the wood
door closed like a mouth
slapped in the rain
Quiet night with no lights
The fire begins inside
an old dry mattress
rolls over and hugs
the whole house to ash
Where does one go from there
Like you want to go anywhere
What will they think of you
when your loving
misshaped body is found
forming this coal metal thing
will they be able to tell what is what
it is easy knowing nothing
with the lights out i was just a normal guy
and then I woke up and was
still just a normal guy
seeing half a woman
who thought she was seeing
two men and all was right
with the world. Night. Ships.
Stars. Water with wind, later fire
soon the earth
which I'm told, we will inherit
when you are dust
who will separate you from the wind
IV.
EARTH
No man can die twice but the grief
we cause returns like a sweater,
can be mended. And dirt can fill
that hole with short breaths
of intention between panic
and thrill. And like those hints of pain
the earth has neither a beginning
nor is an end getting close.
What has been spoiled
through man's fault
can be made good again
through man's work. You knock
on the walls to call out the ghosts.
And you'll throw a pebble
down a well just to hear
where the bottom is
but it just keeps going
for so long you remember a crystal
and it's never there when you need it.
Some summits carry names, stall minds
but everything we need to know about time
is in the mountain which has moved
slowly around the earth again.
*
Ryan says: When Mesa and I started this, I didn't realise how fast and good it would be. We started with the water and finished with earth in a drunken night of back and forth email between Edinburgh and Nicaragua where he now lives. We had no intention of doing a sequence of any sort, but I think we both enjoyed the volley so much we couldn't stop. The last time I saw Mesa it was at a bus station in Sarajevo. I was wearing stupid sunglasses. He, as always, looked excellent. You can find out more about him on his webpage.
Mesa says: It was natural, our writing experience. Damn, we should write a book. Tell the publishers to find us. <and the glasses were not stupid, they were full of love (parade)>
–
April: Katherine Leyton

notes to a husband
I.
When I feed the ducks
my hard heels of bread
I hate how the black-
necked geese often do not care
for my crumbs.
That's not really news
but it's what I care
to report.
II.
The bed is cold ground
when you're gone
my obsessions sweat
through the sheets
and I blink
at the ceiling
as it lowers itself.
In the morning
I think about our kitchen window–
the time a sparrow collided with our reflection
we'd been eating toast
hands gripping mugs
everything like any day.
III
When I swim
I know only swimming
this water remembers my body
you will come back and say
I've memorized every inch of you
but your hands will feel cool
strange and I will shudder the first time
your mouth moves for my skin.
IV
My bookshelves prove
I will keep expanding
like a universe, unchecked
V
When you are here
and sitting still
I make you read to me
I lay my head in your lap
and you get nervous:
"She gave him his eyes, she found them
Among some rubble, among some beetles."
You stumble
and I reach up and put my hand
to your neck.
VI.
I don't know whether to answer the telephone
or the emails or the door. I am too drunk
to eat fish. Windows or not,
your eyes are broken
and we have conversations
in my head like a television
on somewhere,
letters I don't send.
VII.
Your job is to be forgotten
but present. A rattling
glass eye or some trashy
romance novel I never read
but refuse to throw away.
VIII.
Call me.
Call me and don't say anything.
Call me and pray.
Call me and talk for the dead.
Call me when you buy carrots / when you feel like a run / it is raining / the bus is late /
you stop to help an old woman up the stairs/ I will call you
when i notice the moon again / when i rinse out the bottles / before the trash / must go out / call and there are no answers / no endings / i will call you when i remember
what it is / i entered / the kitchen for
I will call you.
I will call you when my legs open wider.
I will call you when yolk sticks on the plate.
I will call you when night wakes me.
–
Ryan says: Originally from Canada, I've known Katherine since her days of study in Edinburgh. Her mature, considered, (occasionally angry) voice and rare concern for The Poem struck me from our very first workshop together and, indeed, my first collection remains indebted to her eyes.
Since then she's been at work on her craft and it has been my privilege to read her poems as often as she cares to send them along. Having just read her recently finished first manuscript, I remain excited about the future.
Katherine's poems have appeared in places like The Malahat Review, The Edinburgh Review, and Room. She was also the founder one of the more exciting poetry projects I've seen in a long time – How Pedestrian. Without any funding or sponsorship, Katherine took poetry to the streets and got random people in random places to read poems aloud. You'll want to dip into the project.
Our poem was loosely inspired by a Tomaz Salumn poem which might have been called 'Notes to My Wife' (though, I'm not 100% positive) but was definitely in 'A Ballad for Metka Krasovec'.
–
Katherine says: I'm a bit of a fascist when it comes to my poetry, so I'll admit I found this exercise very frustrating at first, especially since Ryan took the lead on it and decided both the context and the opening stanza.
Here, Ryan says, go anywhere you want, but only in this room. Or, in this case, be anyone you want, but only in the confines of this marriage.
In the end, of course, constraints are wonderful things because they challenge you to go places in your writing you normally wouldn't.
And working with Ryan is exciting: what I like about his work is that it explodes in these unexpected places into deep grooves and melodies that I really want to get into, be a part of, and it was wonderful to have the opportunity to do that. I'm really glad he asked me to participate in this project.
March: Kirsten Irving

"Notes to a Nemesis"
*
And yet, I want to see you again if only
to wrap in my arms if only
to hear one last breath, your eyes
green as shame before closing
*
How I worried when I met you that 
my third ear, my garish legs
would fast become a gripshift
for those neat-nailed hands of yours.
*
a smile is a shield
and like a shield can cover
or casket. Our minds contain
space and oceans dark 
but opposite
*
if you miss the tear
you miss the point
*
So come to me
when the clouds crawl in
like spectral sloths
when the pyrex cracks in the oven. Meat.
We are nothing but meat; hot on the table,
cold on the ground.
*
Where were you
when the police came?
When they took me away
in standard issue cuffs
and made me fill forms
as though I were not a day-god.
*
Back when I was engaged
with Frost, it was easy
to imagine an ice palace
a globe of glass and snow
delicate and easy to drop
what now, but rain, what now
but a globe of fire and ash?
*
Back. Back, I say,
and the worst thing is that you obey.
*
Maybe you have found yourself
and no longer fight as I do.
Maybe I should help the trapped blackbird
who, having hopped under my bike cover, 
is frantic and sevenbird, all a-seizure,
dashing his fine wings 
against pitiless plastic.
*
Onward to the parade
let the wild rumpus begin
the sad, constant 
march never ends, oh
the broken hearted living
the red balloon sagging
in a corner, what is heavier
the human heart or
the bald tires of a dozen
useless humvees?
*
You burned my house down
*
I'd do it again.
I'd hold my hand to the fire's black heart
as though I were commanding it.
And when you came back, maybe
you'd think I was commanding it.
*
Twisted dishcloth of my belly!
Half-buried bulb of my jaw!
I would wrench off the furless front of me
and guddle out all the kinked guts 
like yards and yards of chewed calamari
if it would help. If it would change me.
*
Wasn't I a painter
blue canal, red smear 
of breast, a wall 
of black you could fall into
a dot of light on the horizon
a train shuddering 
loose, a light you wouldn't
hope to see.
*
And wasn't I once a meteor's harp,
tucked in its megafire arm nook,
bombing towards this planet
in my jazzy silver suit?
*
How I wish for my old stance:
the conch shell of my chest,
feet shoulder-width apart and chin
tilted up, catching adulation
and hatred, soaking it all up
under my slashed-in grin?
But it will not come again,
like the off-course shrike
blown to British marshes
en route to Russia, who will
leave us tensing behind binoculars,
as soon as he has gathered
his thoughts like bright little stones.
*
And the guy who was the most popular, 
sexiest man alive in 1889, in 1949? No one knows 
who the fuck that was. My wings bright and wide 
between the water tower and the moon
and how many looked up, who shuddered
the name Vulture? I was not put down
by the blue-eyed, by the pale yoga smile
if I must go, I go in the arms
of the one with the black cloak,
the one with sharpened fin,
the one I called brother, he
who we all must serve. he
I served well.
*
As I served you.
Sit with me, do, as the crow of night
tucks into the bones of the day
and I will show you just how well I work.
Even now, tingling with ambition.
–
Ryan says: I have long been amazed by Kirsten's work. I first encountered her as an editor of the ambitious, pocket-sized, magazine Fuselit circa 2005. Since then, she (and editor Jon Stone) have built an invigorating publishing house specializing in curious team-ups, highly original anthologies & multi-media dazzle. (Seriously, check out Sidekick Books if only for a beautiful, affordable, micro-anthology). She is as inventive an editor as she is a poet. Her début collection 'Never Never Come Back' was published by Salt in 2012 and, as we do here, melds the tragic and ludicrous. Often during this experiment, she kicked my ass and caught my breath.
Kirsten says: I loved collaborating with Ryan. His initial suggestion of a title fired up plenty of ideas, and the process was pretty organic. It's actually the most enjoyment I've had from writing in ages – it had the feel of a versus game, which really fitted the theme – and I'd love to do it again. The final piece was a mixture of pathos, strangeness and dark humour, reflecting both of our personalities while taking us both off at an angle. You need these kinds of collaboration to refresh your work and remind you that poetry can be massively enjoyable and surprising.
When we performed live Kirsten brought a mournful cello backing track and nemesis slide show:
–
February: SJ Fowler
Bled Suburbs
if there is a date to make
what if I arrive injured?
swinging a cane with pleasure, singing
this is all coming together
sighing
a student of Hebrew
a Scot
delayed at the threshold by the English
rewriting / a marsh
that kills an army
blue cross
dark red beef cross family feelings
let's abandon the discussion in
favour of poetry that is comedy
that is not song
that is what time slows down to
stick a pin in meat
friends
I have a yellow heart
an apple
a burned-out physic Dodge
I can psychic drive
38 dollars and
desert desert desert
a wilderness of mirrors
in my left pocket, no
right pocket, rain
where my right pocket should be
You are right
to ask questions. You are left
turn at the light. I have one
thing I never talk about
another I can't stop breathing.
What is a name
if you don't know the eye,
the color red?
so I'm trained now
steven did you know, that even if you
have bad knees and can crouch down,
you can actually lean your torso
forwards from your hips? it's called
bending over ooo tiny rabbit, i see your moon
but your health is crucial
to the inflatable you can't resist
puffing air into your chest and pushing
into rain and I only remember
my mother's maiden name
when they ask, steven did you hear
the shaking keeps you steady
you should know
RVW says: I was genuinely flattered when SJ asked if we could make a sequence of poems together. I had no idea what to expect or if I would totally embarrass myself / ourselves in this process. Not only was Fowler generous in his encouragement but he also seemed fearless in a way that was very freeing. I could toss out insane non-sequitors, drop an F-bomb, shift the poem radically and know that he'd run with it. Further, I think we had a genuine conversation though the work – we both stole from our discussions or emails and it was heartening to see Fowler use my own words against me. I can't say enough kind things about this avant-garde provacatour. I remain inspired by his work and his commitment to the form.
Fowler says: 'The Burbs is a collaborative writing through of the city space that is not the centre, and so these poems, dotted across the globe, are neither periphery or core. The goal was to leave behind who wrote what, and become poetically annulled, as is appropriate in a celebration of the places people only go to live'.
January 2013:
Dave Coates
Building on a Lake
Outside is the wind.
Last night's limitations brought
instantly to mind.
*
The last leaves struggle.
Fog rises from pond, ablaze
in my own head lights.
*
Bowls clean, table clear,
huddled in a corner, cats
spring around YouTube.
*
Seasons change a face
I will move slower than trees
avoid all the screens
*
Should we? Shouldn't we?
What have we to lose but our
frozen memory?
*
Walking cross a lake with a large branch, my brother empty
red coat and racoon hat. Hearing only our fog breath, cracks.
*
Someone built a bench
on one side of the Great Lake.
I join the sitters.
*
And folks built a bar
on frozen Lake Laida, well
this is what we do.
*
What we do in spring
is what we miss in winter.
Round here? Everything.
*
And what are your hands
thankful for – the shadow cast,
splint of popsicle?
*
The walk home. The wine.
A darkened streetlamp reveals
Venus, Orion.
*
I want new feet, it would be good to rest. An honest man
could read all of Kierkegaard and never guess humans have bodies.
*
Music can be played
everywhere and has no smell.
Hands, peach, flesh, wheel, ice.
*
The leaf in the cup.
The heat in the still café.
You, inside, look out.
–
Ryan says: Over the past few years Edinburgh has been better for having Dave Coates in it. We met when he was doing his MSC at Edinburgh University and I was struck by his mature voice and his ability to edit and critique wisely with kindness and taste. Over the years, it has been my pleasure to regularly workshop with Dave and his advice on my first collection was invaluable. Over November we worked on a series of haiku while I was in France and he in Edinburgh. It was some of the best email I'd gotten all month. Also, I enjoy Dave's provocative blog. You should too.
Dave Says: Usually writing a poem is a soul-searching, teeth-grinding, self-doubting excoriation laced with the kind of head-clutching existential angst reserved for the underemployed and overpriviledged. My commonest thought during the few weeks of this little collab: writing shouldn't be this much fun… I rather hope you enjoyed it as much as I did.
————-
Just because this is Poetry – we shouldn't take it too seriously. Often, I forget this. I was feeling very forgetful when I  met SJ Fowler in September 2012 on a Literature Across Frontiers trip to Sofia, Bulgaria. He was deep into his Enemies project – a series of collaborations between himself and other poets – and I was flattered when asked to join in. And nervous. But I quickly saw freedom in our exchange. I enjoyed the way I could dash forward only half a line or force the poem off a cliff or attempt to mimic or say horrible things noone could attribute to me alone. As news from our lives, or the world, intruded on the work our Suburb poems became conversations, arguments, and journalism. I enjoyed it so much that when it ended, I wanted more. So every month (for this year at least) you'll find a new poem made with a poet friend.
More about SJ Fowler's collaborations.