When I first learned about concrete poetry – I must admit – I was less than inspired. It seemed, to me, the poetic equivalent of a pun. I don't like puns, I don't think they are funny despite the fact that they are often clever. A distinction which often leads to argument. Regardless, after discussing Mallarmé with visual artists I began appreciate the context of concrete poetry. I now have a far wider appreciation of it as a unique literary and visual art. Yes, it is sometimes daft but I admire the playful spirit and the willingness to use the space of the page. Concrete poetry used typography and printing in innovative ways and – I think – is a good example of how poetry might grow and develop using web technology. If anyone has good concrete poetry websites which make use of Java and Flash – do let me know.
Anyway, the point is — there is a massive exhibition of concrete poetry going on around Edinburgh right now. Below are details and context. I'm definitely going to go to the Sound Poetry and Robert Lax events and encourage you to come along too.
A Model of Order : Concrete poetry exhibitions and events
The Scottish Poetry Library is delighted to announce a pioneering collaboration with the Scottish National Gallery of Modern Art in presenting a city-wide celebration of concrete poetry.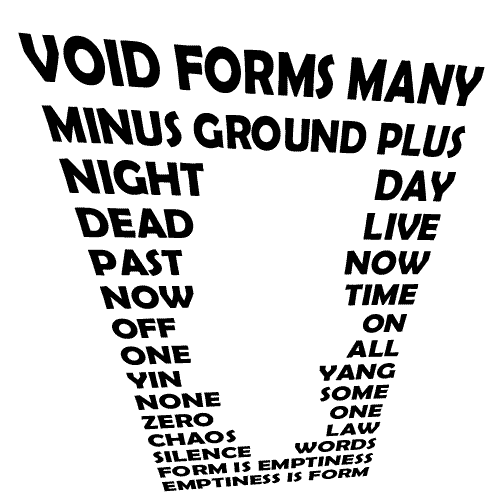 On 3 October exhibitions open simultaneously at both at the Scottish Poetry Library and the Dean Gallery. Further displays will then open at the Edinburgh College of Art, National Library of Scotland and Edinburgh Central Library in November, presenting an innovative showcase of city collections, featuring prints, posters, cards, books, periodicals, typewriter poems, sound poems, installed works and objects. A series of related events will also take place.
Highlights of the Scottish Poetry Library exhibition include a rarely seen glass poem 'Waverock' by Ian Hamilton Finlay, illustrating the moment when he first began experimenting in taking the poem off the page and into a sculptural form (image attached), and a poem-cube 'Linguaviagem' by the Brazilian poet Augusto de Campos, one of the originators of the concrete poetry movement in the 1950s. Other displays at the SPL will feature a wall installation of Eugen Gomringer's 'Silence', the delicate flower poems of American Mary Ellen Solt, and the intricate tyestracts of Benedictine monk Dom Sylvester Houédard. A special 'browse and study' area will enable visitors to read articles and manifestos, listen to sound poems, and watch video recordings.
An associated events programme includes a sound poetry day, a lecture by Professor Stephen Bann on Ian Hamilton Finlay, a conversation with artist David Bellingham about his favourite concrete poems, an evening of video and readings of the American minimalist hermit poet Robert Lax, and various opportunities to listen to talks and discuss the poems of this influential international poetry movement.
As Mary Ellen Solt said 'the poem will go where it needs to go'. This timely and ongoing examination will remind readers of a time of extraordinary experimentation, and inspire new possibilities for poets working today.
A Model of Order is jointly curated by the Scottish Poetry Library and the Scottish National Gallery of Modern Art. While the early concrete poetry of Ian Hamilton Finlay and Edwin Morgan is relatively well known in Scotland, the context for their work in the poetry and art of the 50s and 60s is less familiar. As an international movement, Concrete Poetry began in the early 1950s, simultaneously in Brazil and Germany.  Avoiding the descriptive agenda and discursive flow of conventional verse, Concrete Poetry was defined by one of its founders, Eugen Gomringer, as 'a constellation' or 'a play-area of fixed dimensions'.  The reader, he said, 'the new reader, grasps the idea of play, and joins in'. The Brazilian 'Pilot Plan for Concrete Poetry' (1954) states that 'Concrete Poetry begins by taking into account graphic space as a structural agent'. If the original model of this space was the page, it quickly expanded into the poster poem, wall poems, visual and sound poems, to large architectural installations. Words, syllables and even individual letters were treated as materials in a search to find a new approach to redefining what a poem could be.  Ian Hamilton Finlay's 'First Suprematist Standing Poem', a small card from 1964, may be the prototype of his famous garden at Little Sparta. For Finlay, the concrete poem was 'a model, of order, even if set in a space which is full of doubt'. This intense period of experimentation has to some extent been forgotten, although its legacy is strongly pervasive in the work of artists today.
Exhibition venues and dates:
Scottish Poetry Library 3 Oct – 19 Dec 2009
Dean Gallery 3 Oct – 3 Jan 2010
National Library of Scotland 1 Nov – 30 Nov 2009
Edinburgh Central Library 4 Nov – 27 Nov 2009
Edinburgh College of Art 2 Nov – 30 Nov 2009
Horizons of Holland: The Poetic Prelude to Ian Hamilton Finlay's Gardens
A lecture by Professor Stephen Bann
Mon 12 October, 12.45-1.30pm. Hawthornden Lecture Theatre, National Gallery Complex
Key Concrete Works Artist and publisher David Bellingham talks about his favourite concrete poems
Mon 19 October, 7.30pm. £5/£3. Scottish Poetry Library
Navigating Concrete A guided tour of exhibited works with Librarian Julie Johnstone
Sat 24 October, 11-12noon. Scottish Poetry Library
Reading Concrete Reading group session looking at concrete poems
Tue 27 October, 6.30-8.30pm. Scottish Poetry Library
Robert Lax An evening of video and readings, with Alan Spence & Julie Johnstone
Fri 6 November, 7.30pm. Old St Paul's Church, 63 Jeffrey Street
A Model of Order: Concrete Poetry A talk by Kerry Watson, Librarian
Mon 23 November, 12.45-1.15pm. Dean Gallery
Sound poetry day Drop in to listen to recordings and short talks
Sat 28 November, 2-5pm. Scottish Poetry Library
For further information on the Scottish Poetry Library and A Model of Order, contact Julie Johnstone, julie.johnstone@spl.org.uk , 0131 557 2876.