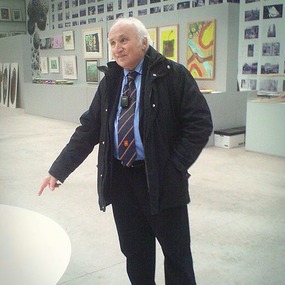 In our first episode of 2014, we talk with the legendary Richard Demarco about culture, festivals, failure and the importance of art. Speaking at his archive at Summerhall, Richard discusses his long association with the vibrant arts scene in Scotland and shares some of his thoughts about the current scene. We also feature the new track Change by Billy Liar from his latest EP All I've Got, available on Bandcamp. Produced by Colin Fraser of Culture Laser Productions (@culturelaser). Culture Laser acknowledges the generous support of Creative Scotland.
A small selection of Demarco's thoughts on art, Edinburgh, and life at large:
– being a human being means you live only a very short time, you stretch your arms out they don't go very far, you can only see up to the point of the horizon. my job is to persuade human beings that they should extend, with the language of the arts, the idea of where they are. but art is misunderstood – if you look at the history of the edinburgh festival – the model for the world's festival – the festival is now not about art, not about culture on the highest level, it is essentially about entertainment.
– all art ascends, if it is worth tuppence, to the quality of prayer. prayer is acknowledging your limitations as a creature. we are here for a very short time but we are inextricably linked to every other aspect of ceaturedom.
– my eyes are always fixed in any race on the two or three runners who are losers. I'm not interested in the people that win. I'm interested in the poor people that have to lose so that others can win. and nobody should be told 'you have won, you are special.' I'm against that! I'm for the people who lose because art is about dealing with human weakness, and dealing with the fact that no matter how hard you try you aren't going to win. there is no such thing as a winner. not in this world.
– if they are in love with their achievements they are second rate.
– unless there is a risk involved in what you do, don't do it. don't play a team that is going to be a walk-over, don't run a race that you aim simply to win. be content to allow someone else to win. nobody wins a cup at Wimbledon depends on all the people who are not going to get to the final. we have to understand that. we have to stop this nonsense. winners and losers. everybody is a loser. it is our condition — mea culpa mea culpa mea maxima culpa – it is my fault, it is my fault, it is my greatest great fault. we have to see born as we are, we live for a very short time.
Do give it a listen.