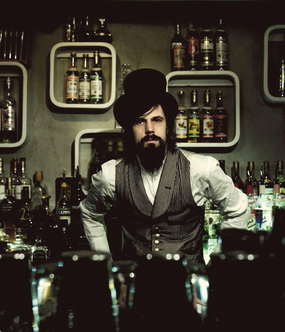 So much great stuff to update you on today, as we delve headlong into a brand new Culture Laser and embark on a shiny globetrotting Bookmarked with the Scottish Book Trust.
In the Laserland we explore the world of molecular mixology on this week's episode with Paul Tvaroh of Lounge Bohemia, a place in Shoreditch where possession of a suit is grounds for summary ejection, and a place where some really excellent art and cocktails can be sampled with equal gusto. We talk Paul's theatrical and playful creations, including a very unique shoe-based drink and a cocktail served in a hollowed out Bible "that smells like an old church and tastes like a priest – or vice versa". We also feature the track MaraGnawa by Gol from their new album Strange Times – support them on Pledge Music, and listen to it right right here!
In the Bookmarked corner, I had the pleasure of talking to Gavin Francis , author of Empire Antarctica, about ice, silence and Emperor Penguins; we headed off to Mesopotamia for the Erbil Literature Festival in Kurdistan to hear from young Iraqi writer Sabrin Qadi and her our friend Krystelle Bamford; closer to home, I had a great chat with Glasgow crime author Caro Ramsay about her new book The Blood of Crows, which The Guardian called a "bleak, black and brilliant" read. So much great stuff to check out! And all at the click of a little triangle.