The SPL wants to know what poem(s) you carry with you!
My favourite poems, the poems I carry with me literally and figuratively are something like scents. The way the smell of warm dust can remind me of the nook behind the hot water heater where my parents hid our Christmas presents, the way the smell of sunflowers can remind me of my first love's sheets, the way the smoke of a bbq can conjure up Graduation Day, Syracuse 1999.
Well, poems are sometimes the same — at least the ones I really like. One of the poems I carry with me is Federico Garcia Lorca's "New Heart" from his book Selected Verse. I bought the book on an inexplicable whim in Provincetown, Cape Cod – the last little town on a long Massachusetts peninsula.
Towards the end of my second summer home from University, some high-school friends and I drove down the traffic laden Route 6 from the town of Turo where we were staying in a peeling, sea-pale cottage filled with lifeguards – swimming in the heat and drinking in the dunes at night. Anyway, in Provincetown there was a little second-hand bookshop and Lorca grabbed my eye. Perhaps because his dark, intense face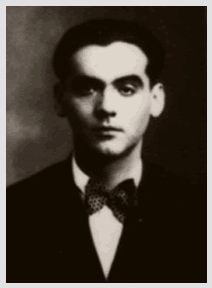 was on the spine and I was young and feeling dark and intense myself.
I bought the book. (The first book of poetry I can remember buying.) And late that night, after a lifeguard known only as The Major had given me the best sexual advice I'd yet had, when my friends had fallen asleep next to their beer cans and the embers of our fire glowed and popped, I opened to the first poem. It was the end of summer, there were loves and friends I would miss back up at University and, even then, I knew I might not see them again that year and maybe not the year after.
I read the first lines of "New Heart" and I've carried them on the tip of my tongue ever since:
"Like a snake, my heart
has shed its skin.
I hold it there in my hand,
full of honey and wounds."
And the battered book itself has been carried with me many places – upstate New York, the green mountains of Vermont, Edinburgh and the coast of Spain where it felt very much at home with the with the smell of white sand, salt and seaweed.
A more recent poem I've discovered (and expect to carry with me for a long time to come) is Wendell Berry's "How to be a Poet (to remind myself)" which I have taped to my bathroom mirror. To remind myself, of course.
The poem is in three parts – each one with a new invocation. The bit I quote most to myself is:
"Breathe with unconditional breath
the unconditioned air.
Shun electric wire.
Communicate slowly. Live
a three-dimensioned life;
stay away from screens.
Stay away from anything
that obscures the place it is in.
There are no unsacred places;
there are only sacred places
and desecrated places."
"Stay away from screens. Stay away from anything that obscures the place it is in."
Reminds me, always, to get away from the evil, glowing devil box the notion of which tells me I should wrap this up and go the three dimensional!
If you have a poem you carry with you, and you'd like to share, we'd love to hear it. You can either respond to this post, or email poetry@cityofliterature.com.
Here's some guideline questions that might help:
Where and when did you first encounter the poem?

What did it mean to you then? How did it make you feel? Did it change you in any way?

What does it mean to you now?

Do you actually carry it? (e.g. in your head, on your ipod, in your wallet or diary, etc)

And would you be willing to take part in audio/video recording for our Carry a Poem site?
We'd be very glad to have your stories on board."
So, what are you waiting for — let us know the poem you carry with you.