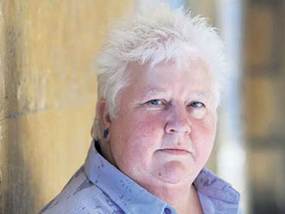 Our final Book Talk podcast features a pair of heavyweights from the world of crime fiction and a debut author we should all be sure to keep an eye on.
First up: Ryan Van Winkle has a chat with bestselling author Val McDermid and her partner in crime (research), forensic anthropologist Sue Black. Val has recently returned to her roots as a journalist with her latest book, Forensics: The Anatomy of Crime, a work of non-fiction. But although, in her own words, she usually 'makes stuff up,' she still does meticulous research, and for that, she turns to Sue. The pair met while guesting on a radio show years ago and have been friends and research partners ever since. Learn how the writer/expert relationship works, what Sue respects most about Val's writing, and how they balance the dark aspects of their day jobs with normal life.
Ryan next introduces us to Kate Tough, whose debut novel, Head for the Edge, Keep Walking, deals with a woman's 'late quarter-life crisis.' Kate talks about her inspiration, how she went from writing poetry and short stories to a novel and the invaluable assistance she received with it, and what you can expect from her at the upcoming Aye, Write! Festival in Glasgow.
Finally, Sasha de Buyl has a word with Nordic crime superstar Arne Dahl. Dahl discusses his latest book, To the Top of the Mountain, the third in the Intercrime series, and what he loves most about the crime fiction genre.