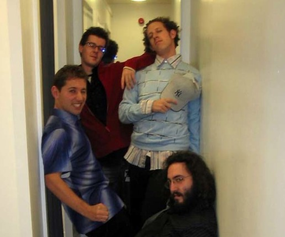 The brand spanking new Culture Laser tackles the grimdark world of commerce on both sides of the Atlantic and the exploitable creative possibilities of being a jerk on the busiest shopping day in the American calendar.
Our friend Mark Vitelli gives us a glimpse into a brand new holiday that will totally change your life, Fashion Friday, a bid to make something unusual and provocative out of the apocalyptic occurrence that is the first business day after Thanksgiving, commonly known as Black Friday, which looks like the found footage section from zombie movies.
Author, filmmaker and all-round good guy Ewan Morrison takes us on a magical mystery tour round the malls of Scotland, filling high his trolley with tales, curios and objets d'art for your delectation. Will you find happiness among them? He gives us an insight to his collection Tales from the Mall, which you can see more of at the YouTube!
And finally we have a fantastic treat in Washington's own Robert Sarazin Blake with his epic track "i didn't call you from philadelphia", an exploration of modernity, American life and the Thanksgiving tradition of listening to super-long songs.
Don't forget you can subscribe to us through iTunes, to get all the freshest lasers delivered right to your door.
Sit back, relax, and enjoy this brand new Culture Laser.