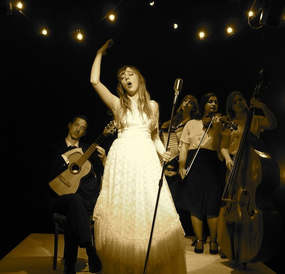 In an only slightly festive Culture Laser, I chatted to the awesome Alex and Mo of Little Bulb Theatre down at the Battersea Arts Centre, working on a new show, "Orpheus", which involves a gypsy jazz band, Django Reinhardt and a big old stage. These guys performed in the Forest Fringe way back when, and it's fantastic to catch up with them. They are funny and droll and you'll want to befriend them.
We also caught up with sound artist Daniel Jones, who shares with us a fantastic piece, "Because the Moon", voiced by The Dude with the Voice, Dave Stewart, and based on the dense volume of spam email received in the past year.
And if that wasn't enough, our friend Robin Grey shares a couple of yuletide tunes with us to warm your heart and cool your nerves.
Check it all out here: